sku#3103 Red Texture , premixed - water base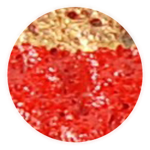 sku#3103 Red Texture , premixed - water base
Red Texture , premixed - water base               Premixed, vibrant color
Dries so you may place other Texture water bases on top before firing.  It may be used under gold or platinum or another color AFTER it's been fired.
NOTE:  Picture shown above has been painted with gold over it in order to show the texture. The Gold are not included in the price.
Here are the instructions to use the Premixed Water Base Texture.   You may copy and paste on a Word Document.
Water Base Premixed Texture
Stir the premixed texture in the container.
Place a portion on your working tile.
Mix in a little water to yogurt consistency.
Use a synthetic brush or spatula to apply on your artwork.
This texture will dry, so you may layer different premixed water base texture colors on top of each other after each one has dried.
(On the dried texture you may also lightly brush on the oil paint for color over the white texture before 1st fire.)
FIRE at cone 016
Any unused portion of the Premixed Texture may be place back in the  container to use at another time.
The WHITE premixed texture may be mixed with POWDERED paints to achieve many colors.
www.ArtFilipeSupplies.com                      805 331-9314                         Jill@ArtFilipeSupplies.com
Note:  Gold not included in price