sku#3002 Relief CH , texture rough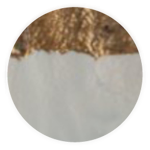 sku#3002 Relief CH , texture rough
Relief CH , texture rough          This texture is mixed with Medium CH.
It may be used under gold or platinum or another color AFTER it's been fired.
NOTE: Picture shown above has been painted with gold over it in order to show the texture.The Gold are not included in the price.
Here are instructions you may copy and paste on a Word Document:
Relief CH- (very rough texture)
Mix  Relief CH with Medium CH to toothpaste consistency
Apply with synthetic brush or spatula for texture.  May add paint colors if desire.
 (Remainder can be stored in closed container)
Fire at 015
May paint over with gold, silver, platinum or colored paints.
Fire at 018
www.ArtFilipeSupplies.com                      805 331-9314                         Jill@ArtFilipeSupplies.com