sku#3005 Sandra's Etching for Gold , texture under gold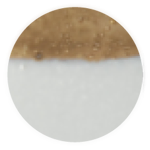 sku#3005 Sandra's Etching for Gold , texture under gold
Sandra's Etching for Gold , texture under gold.  Mix with Sandra's Medium
Used  for texture work under gold.
Here are instructions which you may copy and paste onto a Word Document.
Sandra's Etching Gold
Sandra's Etching for Gold powder
Sandra's Medium  (use turpentine to thin)
Tape off your piece with auto blue tape
Mix dime size of Sandra's Etching Gold powder with Sandra's Medium to very wet, yogurt consistency.
Use a sponge and lightly sponge on porcelain,  leaving areas of white if desired.
Fire at 016
Use soft sand paper then clean and apply gold, platinum or luster's
 Fire   018  or  019
www.ArtFilipeSupplies.com                      805 331-9314                         Jill@ArtFilipeSupplies.com