sku#3205 Green Sands , sand - texture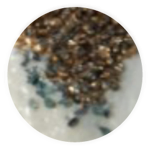 sku#3205 Green Sands , sand - texture
Green Sands ,  sand - texture
Here are instructions to copy and paste onto a Word Document.
SANDS
Mix   I-Relief  with Medium for Texture and Relief to a yogurt consistency.  (OR you may use Premixed Base for Gold instead with a little water to a yogurt consistency).
Use a synthetic brush to apply a thick, even coat on porcelain.                                    
Put sand on top and gently but firmly press down.
Shake off extra sand on a sheet of paper and place unused sand back into container.
Fire 016
May paint over sand with gold, silver, platinum, luster or colored paints     
Fire at 018  or  019
www.ArtFilipeSupplies.com                      805 331-9314                    Jill@ArtFilipeSupplies.com